A Skyward Field Trip
#Events

The rain poured down as nine junior high students filed off the yellow school bus and through the front door of Skyward's corporate headquarters. They seated themselves behind computers and chatted quietly as they waited for the presentation to begin.


The students were on a field trip for their College & Career Readiness course at Ben Franklin Junior High School in Stevens Point, Wisconsin. They had come to Skyward to learn about working for a high-tech company, and they were in for a treat from the start, literally (there were Halloween goodies spread across the tables).

The practice of partnering with local businesses is one that has taken hold in many school districts, where the alignment between high school, higher education, and employer needs is a top priority. For these students, it was a rare opportunity to see one potential destination and hear personal stories from some Skyward employees who were in their shoes not too long ago.

If you've thought about introducing your students to the world outside your walls, I hope this post will serve as a blueprint and inspire you to think about ways you can take learning beyond the classroom.



What Do You Want To Become?
Members of Skyward's digital media team, all recent college graduates, led the presentation. It was obvious to me that having these fresh-out-of-school professionals guide the conversation helped make the corporate world more relatable to the students.

Emily began the conversation by introducing herself and highlighting her love of goldendoodles, Tim Tebow, and cheese. She said that growing up, she wanted to be a veterinarian. She then opened the conversation to the students and asked what their hopes and dreams were. The answers she received were widespread; we heard everything from a professional football player to a programmer (the latter, of course, being more up Skyward's alley).

Laura took the floor next. Her opening remarks also underscored the importance of dreaming about and planning for the future. She spoke of her passions, singing and acting, and her past career aspiration of becoming a news anchor (a path she contemplated only after ruling out "princess," which, it turns out, isn't a field with a lot of prospects). Laura brought up the question she asked herself when determining what she wanted to do with her life: What does everything I like add up to? For Laura, it was telling stories. And she's happy to be doing just that in her role as a digital media specialist at Skyward.



Working in the Tech Industry
Once the introductions were over, it was time to dig into the meat of the program: the ever-evolving, exponentially expanding world of technology.

The presenters flashed some stats on the screen for the students to think about:


There are now more mobile devices than people on the earth.

By 2020, there will be 1.4 million computer science jobs, but universities are on track to educate enough students to fill less than one-third of them.


Laura and Emily had two key points for the students. First of all, if you're looking for a career path with an excellent job outlook, look to a high-tech industry. Their second point applied to everyone, regardless of career aspirations: Since technology is becoming increasingly prevalent in our society, it no doubt will have an effect on every person, whether he or she works in a high-tech position or not.

"It's not just programmers that use technology," Laura said. "Here at Skyward, everyone from the CEO to the entry-level staff uses it."

"We have an advantage as millennials," Emily added. "We can adapt to the changing technology and keep up."

The students watched a short video about working at Skyward and having a career in a high-tech industry. Partway through, their instructor became very excited. "Hey guys! That's a former student!" he exclaimed. He continued with an impromptu pep talk. "If he can do that, there's no reason you can't too!"



Coding 101
Code
noun \'kōd\:
a language that tells a computer what you want it to do, which involves typing in step-by-step commands for the computer to follow


Casey, our web design specialist, was third to take the floor. He began by passing an iPad around the room. The device displayed an app he'd built for the Skyward sales team. Casey asked the students if any of them were familiar with coding. (A young lady with hopes of becoming a programmer nailed the definition.) He talked about different coding languages: HTML ("Hey, I know that!" another girl proudly exclaimed), CSS, and Java Script. A few students nodded, signaling their familiarity with these languages.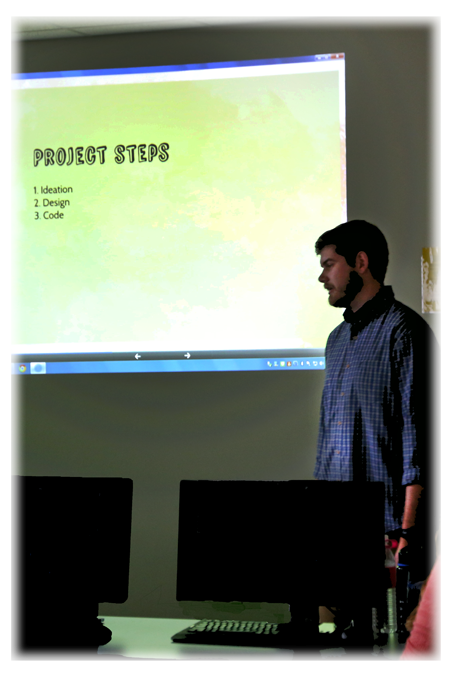 Casey walked the students through the three-step process he used when building the app: 1) ideation 2) design (which he does in Photoshop) 3) coding. It's a process that repeats itself over and over. For instance, Casey said he went through 17 different designs before settling on the one the students saw.

To wrap up his chapter of the presentation, Casey gave some helpful advice to students interested in programming. He suggested they take the initiative to start learning from the many helpful online tutorials. "If you want to learn it, it's out there," he emphasized. Casey also recommended the students try "buddy programming," as gaining the perspective of another coder can help fix problems and generate fresh ideas. Finally, he spoke about the importance of learning how to communicate effectively and problem solve; it takes more than just computer skills to excel in this field.



Anyone Can Code
The students were given an opportunity to become programmers themselves. They went to a popular site, code.org/flappy, where kids (and adults) can learn to code. The students embraced the challenge of programming their own versions of the game Flappy Bird, with one group successfully programming the bird to fly by itself. In no time at all, they'd proven to themselves that anyone can code.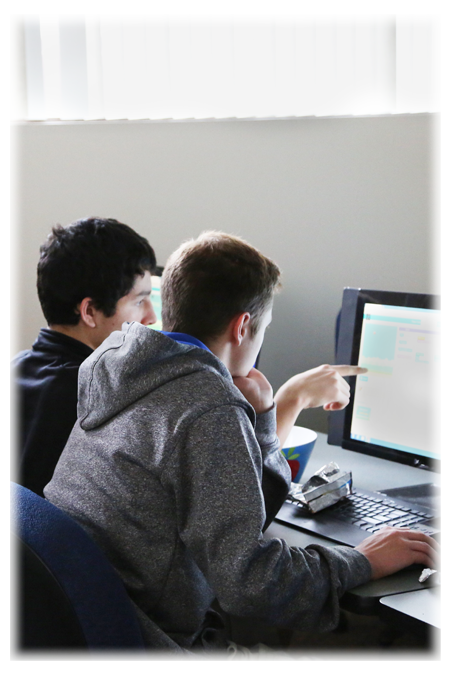 Advice Worth Considering
The presentation was nearly over, but the students wouldn't leave without another healthy dose of advice. Ray Ackerlund, Skyward's chief marketing officer, stopped in to offer his words of wisdom on embracing life in a tech-driven world.

"No matter what you want to do in the future, technology will be a part of it," he said. "Get comfortable with it. Enjoy it. Doing so will make life easier for you."

Laura, Emily, and the students' teacher shared some final insights before bringing the event to a close. Their advice, too, can truly apply to anyone, regardless of age, career, or stage in life:

Follow your passions. Don't be afraid to embrace technology. Develop your skills and pursue any learning opportunities. You may not be interested in something now, but that knowledge can open doors for you later. There will be opportunities in the future, if you start pursuing your dreams and passions today.




On behalf of everyone at Skyward, we'd like to thank the Ben Franklin students and their teacher for thinking of us as a high-tech company worth visiting. It is our sincere hope that this will become an increasingly common practice in K-12, as a way of showing students what life after school might look like if they dedicate themselves to their education.