Automate Your Business Office and Save Six Figures
#District Stories
Is your business office fully automated?

Today we're shining the spotlight on one of your fellow Skyward school districts, Allentown School District in Pennsylvania.





Allentown never dreamed that switching to Skyward's automated processes would save them several hundred thousand dollars—but it did! Check out the graph below: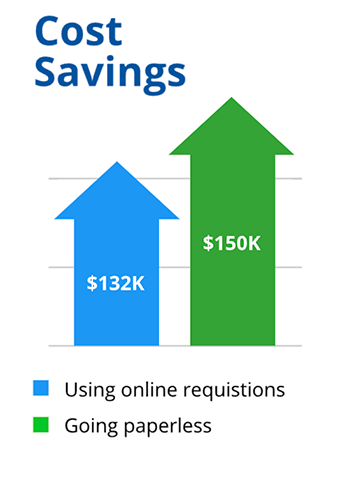 Using online requisitions saved the district $132,000. Going paperless saved another $150,000—not to mention, lots of trees!

Some of the Skyward features that made the biggest impact in Allentown's business office makeover included:

Employee Access: No more printed direct deposit notices. Instead, employees log into Employee Access to view and print deposit information. Employee Access houses the district's HR records, W2 information, payment history, and time-off records for employees to peruse from their own devices.

Substitute Tracking: Allentown tracks detailed information about its substitutes, including the days they subbed, who they subbed for, and their pay rate. This feature is particularly important because the more a substitute subs for the district throughout the year, the higher their pay rate.

Employee Management: Allentown uses the Employee Management module to automatically roll employees from one step on a salary matrix to another. This eliminates the potential for human error and saves time.

Purchasing: With their previous process, when a principal wanted to submit an order, the administrative assistant would type the requisition and it would be passed by hand until it finally reached the business office. At that point, the purchasing administrator would re-key everything into the system. Now Allentown's administrative assistants enter the requisition directly into Skyward, where it is sent to the appropriate party for approval and submission. This change alone saved the district $150,700 each year.


Is your business office taking advantage of all these features? If you're not yet fully automated, there's no time to waste. How much time and money could you be saving?

Read Allentown's full story and get more ideas for your district here.

Don't yet own a feature or module that could save you time and money? Contact your sales rep for a quote at skyward.com/get-started!