Qmlativ Spotlight: Benefit Management
#Product Updates
Caitlin Barton

Product Manager
Read time:
The right tools make managing employee benefits easier. To build a better benefit system, we spoke to stakeholders and created a plan designed to fit how users actually administer their plans. Let's take a look at the process of creating the Qmlativ Benefit Management System: where it all started, the process, improvements, and what's yet to come.

Square one
We started with the basic functionality of a benefit management system, knowing districts needed flexibility to accommodate many different plan types and options for employees. The basics included the capability to create:

Plans: Different types of insurance offered (e.g., health, dental, vision)
Coverages: Different options depending on an employee's family size
Deduction benefit schedules: When premiums would be collected throughout the year
Benefit groups: Employees who share the same sub-plans and rates
Sub plans: Different plan types for different employee groups

These options covered the employee-facing selections, but the administrative side needed careful attention to create a smooth process of benefit changes during the busy open enrollment season, and throughout the year as individual changes trickle in.

Administrative staff must determine the plan and sub plan an employee will follow.
Vendor payments must be created en masse each month to pay vendors for each plan, and bills must be created to keep the district's accounting records up-to-date.
Payroll data must be updated each pay period to ensure deduction and benefit amounts always match the employee's elections.

These basic criteria served as the wireframe, or starting point, for the initial build of the Qmlativ Benefit Management System. Once the basics were in place, we could tackle the fun part: transforming benefit management into a delightful experience for users.

Feedback and wish lists
After gathering feedback from demos and meetings with nine sites and groups of stakeholders, our team added eight additional projects to enhance the Benefit Management System. These projects were thoughtfully added based on requests from users and support staff who know first-hand what makes benefit management flow smoothly.

More options within a single system: Rather than making changes to benefits outside of the Benefit Management System (for example, through the Employee Profile), we added more functionality to make changes directly inside the system.

Full-time equivalency (FTE) override: In school districts, employees often have multiple positions and assignments, and districts needed a way to specify what those employees' FTE benefit plan should be.

Flexible FTE ranges: Again, with the unique FTE benefit arrangements districts offer, it's important to be able to override or create a specific range for an employee's FTE (perhaps FTE .2+ receive 40% of benefit coverage, .3+ receive 50%, .6+ have 80%, etc).

Clone benefits at year end: Quickly roll over previous codes and employee elections into a new year.

Cash payments for benefit management: Employees may pay their benefit premium outside of a normal payroll process. This is useful for employees on FMLA leave.

Retroactive adjustments: If an employee needed to adjust premium schedule for some reason, the system could allow for the payments and balance to be calculated to pay ahead and see what the remaining balance is.

Add Benefit Management to Employee Profile: Another way to reduce clicks between different modules to improve user experience.

Expand data on Employee Plan List: Districts needed to see total premiums for the year, total collected so far, remaining payrolls to collect premiums, and the current amount deducted per pay period.

Noticeable improvement
One of the most exciting parts of building new Qmlativ modules is comparing our progress to the functionality in SMS 2.0.

Benefit specialists can quickly mass add sub plans for each of the benefit groups in a single plan. Previously, this process required each be entered manually one by one.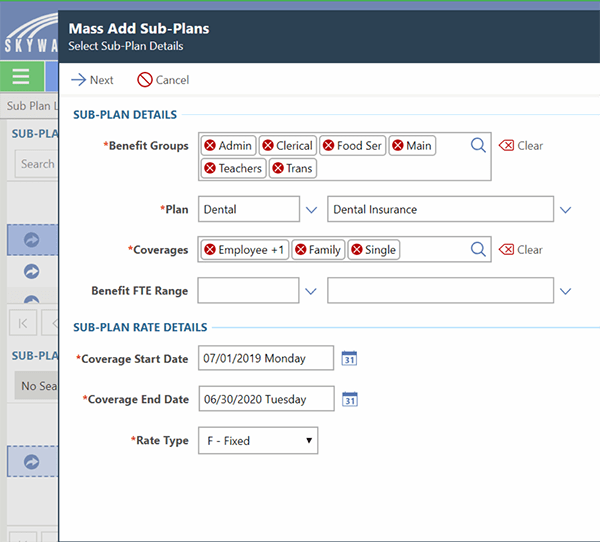 Now, let's look at managing employee changes. Otto would like to move from a single sub-plan to a family sub-plan. Once he notifies his employer, the benefit specialist can see his current elections, including past and future premiums, in benefit management.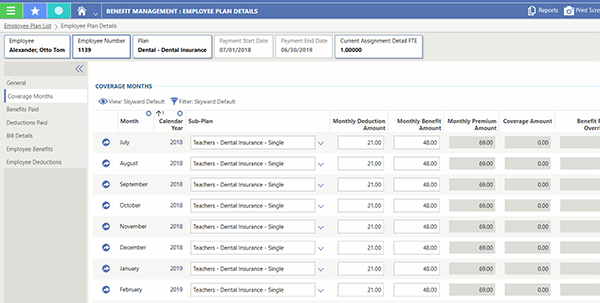 From here, the benefit specialist only has to find the month his coverage should change and select Otto's new coverage from the drop-down menu.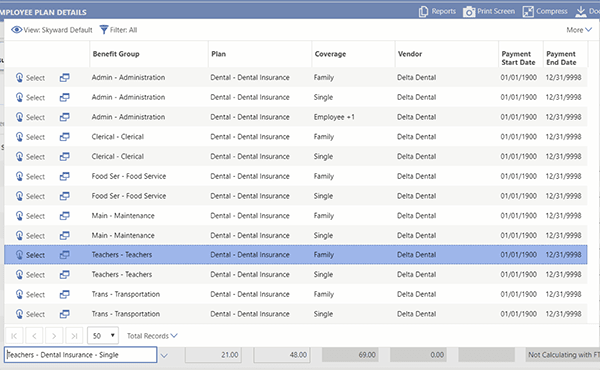 Then the remaining months update in a trickle-down effect: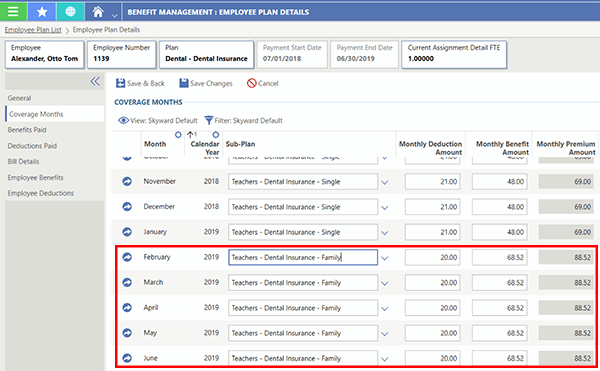 Next, Otto's update will flow into payroll. Much of the manual input needed prior to running a calculation file has been eliminated, and many prompts which could result in entry error were removed. All the benefit specialist needs is the effective date to make the change, which will take all previous payrolls and the new benefit deduction elected into consideration to create an accurate new calculation.



There's no need to enter IT processing date, salary basis rounding, completed pay period, or months remaining, and it's not necessary to process insurance estimates before performing an insurance tracking calculation. The system also provides a summary of changes being made for the pay period.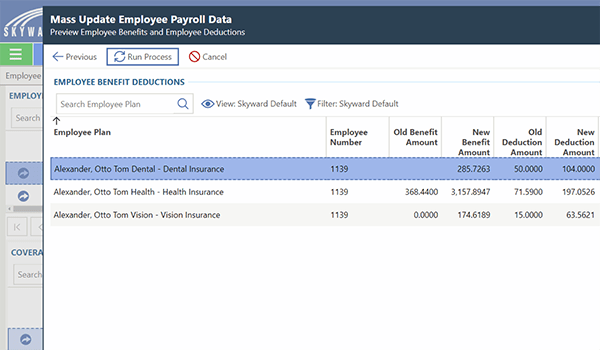 On the horizon
Enhancements don't stop there! The next user experience enhancements revolve around open enrollment. Employees will see a better experience whether they are keeping their current coverage, waiving coverage, or electing new coverage. They can include more information when modifying or adding dependents, and can compare coverage from the previous year to current elections.


Follow-up resources
If managing benefits is challenging for your district, consider embarking on a smoother journey. Contact your sales rep to get started with the Qmlativ Benefit Management System.

Read how one district used UX to create the best benefit mangement open enrollment experience for employees.

Caitlin Barton

Product Manager