Qmlativ Spotlight: Extra Pay Amounts for Subs
#Product Updates
Cody Clark

Product Manager
Read time:
Does your district struggle to fill substitute positions on certain days? Whether it's around the holidays or during flu season, chances are there are times when you just can't seem to stay fully staffed.

Our team heard your struggles and is excited to announce a new feature. Qmlativ now gives you the option to offer extra pay for added incentive on hard-to-fill days.

Let's take a look at this new feature!

What are extra pay amounts in Qmlativ?
Extra pay amounts automate the process of increasing pay for substitutes on designated days. If your district has been manipulating sub transactions to update pay rates manually, this feature will save you a lot of time!

How does it work?
Extra pay amounts are defined on the Sub Tracking Pay Scale Class. Your district's HR team, or whoever is in charge of managing Sub Tracking, will define the days that qualify a sub for an additional pay amount (for example, all Mondays and Fridays or the Monday – Wednesday before Thanksgiving). They will also designate how much additional pay is offered. When a sub works a day configured to receive extra pay, Skyward will automatically pay the sub the standard rate plus the extra amount.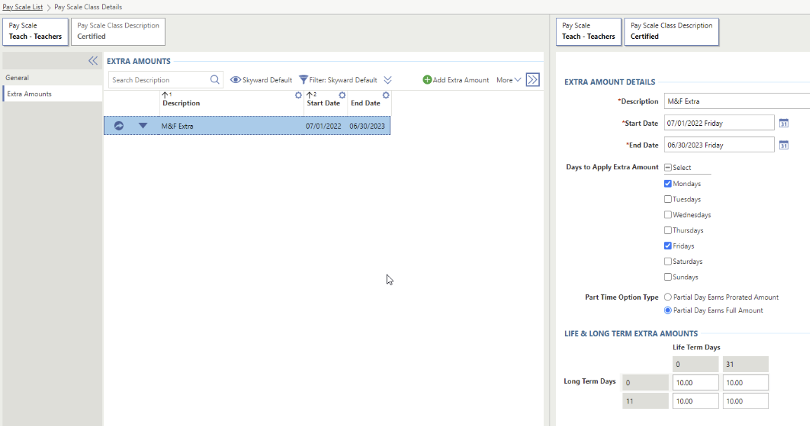 When subs work partial days, you have flexibility as to how you want to approach their pay. In the Extra Amounts tab, you can set up Skyward to prorate the extra amount or pay the sub the full extra amount.

How do I get started?
This new feature is available to all districts using Qmlativ's Sub Tracking module (part of the core Business Suite). Once Pay Scale Classes within Substitute Tracking are configured, you're all set!

We hope extra pay amounts will make it easier for your district to fill substitute teaching positions this year. If you're looking to simplify your time off/substitute management process even further, be sure to check out our integration with Red Rover.

Follow-up Resource: Qmlativ Spotlight: Comp Time Processing
Employee Access now has a built-in comp time solution in Time Tracking! Instead of using a spreadsheet to track how much comp time an employee earns and manually entering that data into Time Off, you can let Skyward handle calculations for you.
Cody Clark

Product Manager