5 Exciting Features of SchoolTRAK
#Product Updates
Chris Baker

Technology and Support Administrator
Read time:
Whether your district is already using Qmlativ or thinking about making the switch to the next generation of Skyward, we've got some exciting news to share when it comes to tracking tardies and absences.

We'd like to introduce you to SchoolTRAK, a new-and-improved tardy and absence tracking solution for Qmlativ users. In addition to automating tardies and absences, SchoolTRAK also has an optional Positive Attendance add-on that is currently in beta.

Let's take a look at five exciting new updates you'll enjoy with SchoolTRAK.

1. Increased customization
With SchoolTRAK there are more ways to customize than ever before. You can decide what type of hardware you want to use (a tablet, standalone self-service kiosk, or mobile kiosk) and how you want to capture students' information. For kiosk setups that use slip printers, you can also customize tardy slip information, as well as any automated email messages your school will be sending.

In addition, you can customize the type of data the kiosk will enter in Skyward. If your school is using the SMS 2.0 tardy kiosk, you know only one tardy type can be entered on a district-wide basis. Not anymore! With SchoolTRAK, the tardy or absence type can be customized down to an individual kiosk.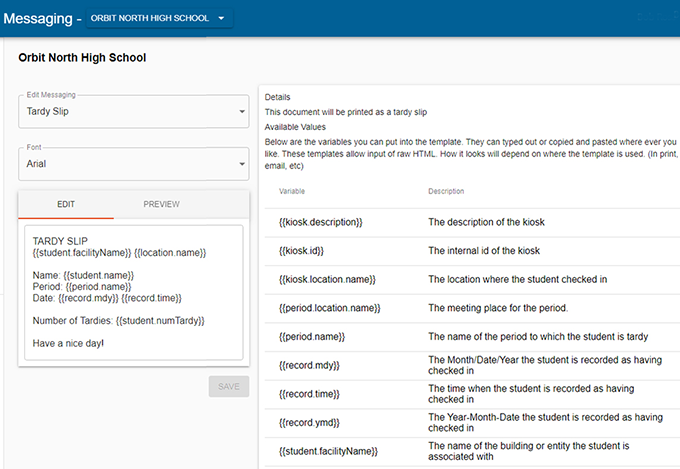 2. Automated Period Rules
One of the most exciting features of SchoolTRAK is Period Rules. With Period Rules, each school can set a schedule to enter either a tardy or absence for a student, depending on the time the student checks in. For example, you can set up the kiosk so that if a student checks in less than 10 minutes late for a period, they'll be marked as 'tardy-unexcused.' But, if a student checks in more than 10 minutes late, they'll be marked as 'absent-unexcused.'

Kiosks can be set up to follow the Period Rules set by your district, or you can set it to just enter a single tardy or absence type.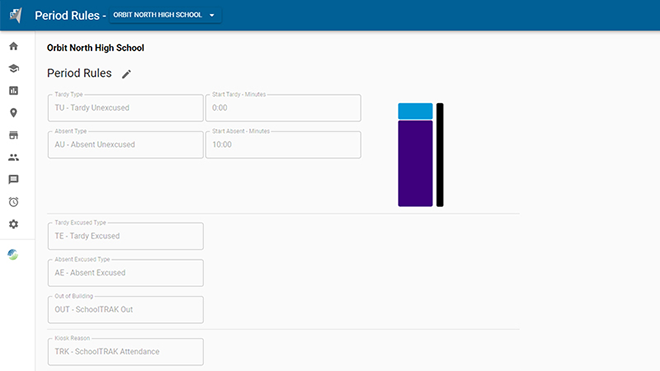 3. Unlimited kiosks
SchoolTRAK is a web-based software that can run on any device with a web browser (we recommend Google Chrome). This means your school can create as many kiosks as you want! You also can create them on the fly. For example, your school could have a stationary kiosk in the front office that follows the Period Rules for late students to check in as they enter the building. However, if a late bus of students comes in, office staff could quickly create a new kiosk on a tablet and set the absent type to 'tardy-excused.' This way, the arriving students can check in quickly and be marked with the correct tardy type.


4. Exclusive Qmlativ integration
SchoolTRAK has a live and direct connection with Qmlativ. It actively pulls your school period schedule, as well as each student's current schedule. Your district can even set up SchoolTRAK to deny a student's check-in if they are at an incorrect location. During each period, SchoolTRAK also enters students' primary attendance code into Qmlativ. Any additional kiosk check-ins for students are displayed in SchoolTRAK.


5. Easy-to-read data
The Administrator view in SchoolTRAK offers multiple ways to view the data you've collected. It includes a homepage dashboard with an overview of the tardy and absence data for the day, week, and month. It also has list and calendar views of entries by student, as well as reports you can run to identify student attendance issues that need to be addressed.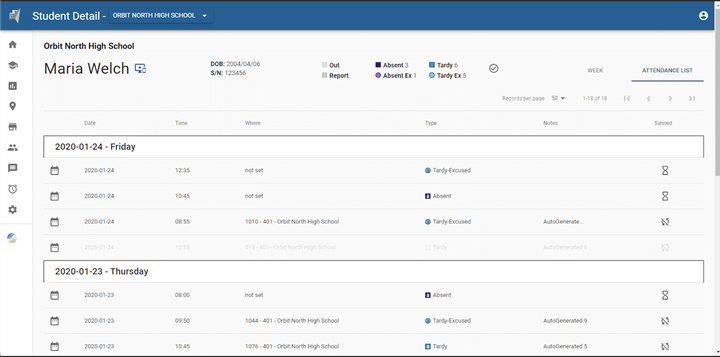 From increased customization to at-a-glance reports, SchoolTRAK makes tardy and absence tracking a breeze. If you'd like to learn more about this new solution, contact your Skyward account manager or reach out to School Technology Associates at sales@k12sta.com or 877-436-4657.

Follow-Up Resource: Why Use a Tardy Kiosk?
Learn more about what tardy kiosks can do in this handy dandy, shareable one-page pitch.
Chris Baker

Technology and Support Administrator