Data Legislation in Review via the Data Quality Campaign
#Data
Anticipating a wave of legislation designed to keep humanity safe from artificial intelligence, let's take a look back on years of data legislation. How has it evolved? Where do we go from here? A series of reports can help us catch up.

The Data Quality Campaign (DQC) tracks the movement of data legislation. Since 2014, they have summarized the proposed and passed data legislation across all states, along with the trends in topics covered by legislation.


Why does data legislation matter?
It helps protect privacy, which keeps kids safe.

It may apply to the actions of:
Educators
Students
Vendors
Service providers

Legislation takes a two-pronged approach.

A prohibitive approach ensures privacy by preventing/ending the collection of data or data use.
A governance approach establishes or amends procedures, roles or responsibilities, and support to ensure data is used appropriately. (Data Quality Campaign, 2014)


2022 in review
2022's year of legislation came in the wake of a very active legislative year in 2021 (more on that later).

DQC found two prevailing themes in this most recent year of data legislation:
People need data
Policy goals and needs have evolved

DQC finds that data doesn't really matter if people cannot access it to make sound decisions. This means repositories of data have to have a means for people to analyze it. Further, the people accessing data should have a vested interest in it (per FERPA, which dates back to the 1970s) and should be able to get insight quickly. A data dashboard is a great example.

As for needs evolving, legislators in New Jersey and Colorado determined academic data extends beyond letter grades. Examples include school climate, attendance, and discipline or behavior tracking.

2022 legislatures also passed guidance for how data is gathered and used to support students transitioning into postsecondary options, including career paths. This is an example of cross-agency data governance.

Other notable topics covered disaggregation, or how data is sorted to make sense of it based on subsets within the data set, and clarification of privacy policies.

Read the brief in its entirety from the DQC


2021 in brief
Find the full brief for 2021 from the DQC here.

Immediately following the abrupt shift to virtual learning, data legislation addressed concerns about:
Equity in education
Postsecondary plans
Workforce transition plans
Privacy during virtual learning
Learning loss and assessments used to measure it
Governing data systems and extracting insights from them

If this sounds like a lot, it's because it is. It turns out that moving K12 education online brought to light major security, privacy, and equity concerns. In response, states passed 111 data legislation bills out of 361 proposed. Here's how that stacks up compared to previous years.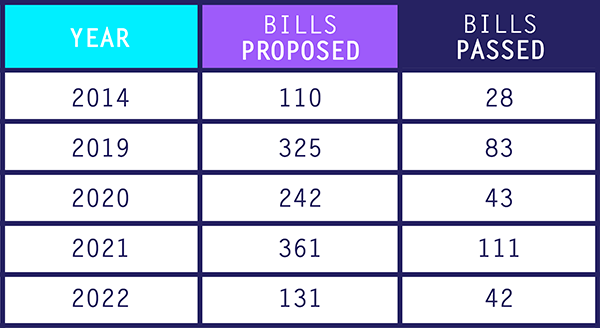 What's the point?
We're on the precipice of a new age of data legislation surrounding artificial intelligence. Analyzing and reviewing legislation is well and good, but where do we go from here?

Make it actionable
What keeps bills from passing? Requiring action without providing training, support, or tools needed. Per the DQC reports, legislation is more likely to pass if its methods are actionable at scale. Everyone, from school boards to students, can get involved in supporting actionable data legislation.

We've been here before with social media and missed an opportunity to lead with more secure legislation right away. What will happen if we do the same with artificial intelligence?
Youth activism and data privacy
Students are actively looking for causes to work for and ways to make their world a better place. They're coming of age at a pivotal moment in time—they grew up with social media without realizing the harm it can cause. Even their parents aren't always aware of digital privacy red flags.

This provides an opportunity for students to speak up about the legislation directly affecting their very real virtual worlds, friendships, and hazards.

Walk the walk and talk the talk
When you make data privacy a non-negotiable priority in your school culture, those effects ripple. Students are safer online. Their friends and family members pick up on good privacy practices, too. The vendors you choose share your careful approach and follow best practices.

School is very likely one of the first places students (and families) are made aware of best practices and predatory practices. When you invest in your staff and students' awareness, it pays off.


Follow-up resource: Guarding data
Keeping data safe from bad actors is everyone's job. Here's how to start strategizing.