The Summer of PD Plans
#Leadership
Casey Thompson

Web & Digital Media Manager
Read time:
The challenge of designing professional development could not come with deeper conflicts.

While it's undeniably true that PD is non-negotiable, expensive, and important for educators' professional and personal growth, adding yet another calendar event can really dampen morale (especially if it's cutting into planning time).

This is one of the major positive points for digital badging: credentials can be completed anywhere, at any time, and to your specifications. Like most DIY projects, knowing where to start can be tricky. Luckily, it's the perfect time to do some PD planning with programs like Badge List.

Badge List is a digital badging platform designed to make it easier to create customized professional development programs in K12 schools and beyond. Create PD paths unique to your district or educators' goals and expertise (here are some examples to consider from Advancing K12's Future Ready Teachers group). Have participants submit their credentials and artifacts digitally for review and approval. Finally, award the badge if criteria are met, or add feedback and have the participant re-submit when criteria are met.

The bonus of digital PD is that participants can complete and submit badge criteria on their own timeline from wherever they may be—even in the middle of summer. PD no longer has to eat away at educators' precious time during the peak busy periods.

The beauty of Badge List's digital credential path is that your PD curriculum team designs the exact path, objectives, and requirements for achieving success and awarding the badge. This means you can prioritize exactly what your team wants and needs to learn. Getting people involved in creating their own PD—just like project-based learning or student-driven learning—increases agency and ownership.

All this planning takes time and energy. While Badge List has tried-and-true results with teams of educators, getting started is challenging for any PD curriculum team—let alone teams who have mostly relied on pre-made programs for PD thus far.

If DIY is extra daunting, never fear. There's a solution for starting fresh, too, with different options depending on your district's needs, size, and goals. This summer, Badge List is offering digital credential courses for organizations wanting to get started building their own PD program. It's called the Digital Credentialing Course for PD Leaders.

The course is built around three core modules:

Module 1: Designing digital credentials that inspire your community
1. Create a vision for a flourishing badge program that:
Customizes your badges for high engagement
Meets learning goals and builds capacity
Empowers learners to create their own professional learning pathways
2. Explore multiple approaches to PD credentialing
View other badge-based PD examples to see what components resonate with your situation

Module 2: Building captivating badges
1. How to build badges on any digital credentialing platform
2. Create appealing, consistent, and clear badge images
3. Structure tasks and required evidence for easy administration

Module 3: Managing your program for long term engagement
1. Sustaining a successful digital credentialing program
2. Roles and responsibilities of badge assessors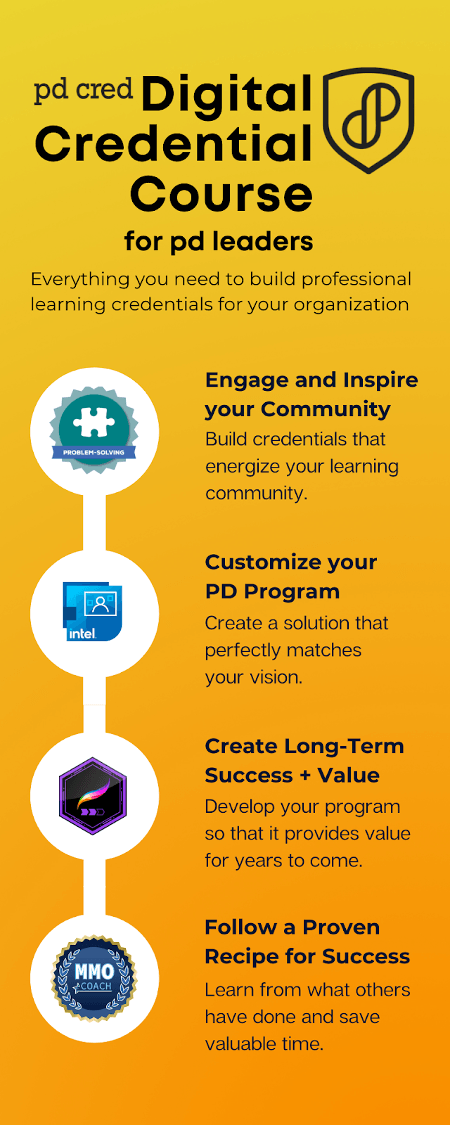 Kick off the summer of PD with a program that works: one you create yourself! For details and pricing, visit https://pdcred.com/.
Casey Thompson

Web & Digital Media Manager
Share this story: