5 Ways to Plant the Seeds of Sustainability
#Culture
I recently learned some statistics that blew my mind.

If you compress the earth's entire 4.5-billion-year history into one calendar year, with its inception being January 1 and so on, the dinosaurs' extinction would have taken place on December 25. Humans would have first appeared on December 31 at 11:36 PM. And the Industrial Revolution? December 31 at 11:59.58 PM.

I KNOW.

It's heartbreaking to realize our young species has inflicted so much damage on the planet in the blink of an eye. But the good news is it's not too late to turn things around. And what better place to take action than in schools where the next generation's minds are being shaped?

Here are five ways you can plant the seeds of sustainability at your district.


1) Reduce, reuse, recycle
When kids understand the importance of reducing waste, the simple chore of tidying up can become a passion-driven initiative. This of course starts in the classroom, but it by no means ends there.

Make it easy for kids to do their part by making recycling bins readily available, ideally next to every trash can. You can also hold an end-of-year collection for kids to donate unwanted supplies. No point in sending all that good stuff to a landfill!

Take it one step further and lead by example. Recycle Now estimates the average elementary school produces 99 pounds of waste per pupil each school year. Multiply that by 20 kids, and you've got nearly 2,000 pounds of trash per classroom! Every little bit helps to shrink your school's footprint—and kids can help lead the way.

If your municipality's waste disposal practices could use a green tune-up, consider teaming up with your school board to encourage good recycling. A letter-writing campaign could get students involved in the process.


2) Implement more paperless processes
Every year it's getting easier to save trees. Here are some simple, paper-free solutions your district can take advantage of:

Parent portals—You can use your parent portal to have guardians fill out forms, pay fees, and even register for the new year.

Online forms—From field trip waivers to employees' direct deposit information, you can move just about any form online.

Electronic payments—Most payment processes can be done quickly and securely online, whether you're paying vendors or reimbursing employees.

Learning management systems—An LMS allows you to move class notes, video lectures, assignments, quizzes, tests, and pretty much anything else online.

Cloud storage—The days of the filing cabinet are over. Storing information on the cloud is secure, doesn't take up space, and allows you to access data from anywhere.

For more detail on these processes, check out Less Paper, Not Paperless.


3) Harness the power of the sun
More than 7,000 U.S. schools have turned to solar energy, and it's not hard to see why:

It's good for the environment. By going solar, your school will be running on clean energy, which means it won't contribute to greenhouse gas emissions or global warming.

It's good for district budgets. Believe it or not, switching to solar energy will actually save money. If your district privately invests in a solar energy system, there will be up-front costs but worthwhile savings down the road. With a power purchase agreement (PPA), however—a contract that allows an energy company to own and run the system on your school's property—the savings begin immediately.

It's good for budding environmental stewards. Not only will implementing sustainable practices like solar energy set a good example for students, but the system can also become an educational tool that teachers can incorporate into their science curriculum.


4) Plant a school garden
Planting a school garden provides students with an opportunity learn environmental responsibility while having fun. Get them involved from the start by inviting them to help choose a plot of land for the garden and what seeds to plant. Lessons will literally come alive as students witness growth and the impact weather, pollinators, and other creatures have on the plant life cycle. Plus, students will be able to enjoy the fruits of their labor in school lunches!


5) Use tech as an exploratory tool
These days, the world can fit inside your pocket. Are you taking advantage?

Livestreams provide a great opportunity for students to get up close and personal with nature. Explore.org/livecams, for instance, has pretty much any livestream you could ask for, from watering holes in Africa to eagles' nests in the Midwest. And of course, you don't have to limit yourself to locations far away. You and your students can create a similar livestream by setting up a camera near a birdfeeder, in the woods, or in your school garden!

But livestreams are just the beginning. You can track sharks on the internet. You can employ apps to teach kids about animals or help them identify leaves or birds. You can even use virtual reality to allow to kids teleport themselves to otherwise unreachable locations, like the Amazon.


A borrowed planet
There's a Native American proverb that says, "We do not inherit the earth from our ancestors; we borrow it from our children."

Schools have the unique opportunity to plant the seeds of sustainability in the next generation of our planet's caretakers. So make sure you seize it! A better tomorrow starts today.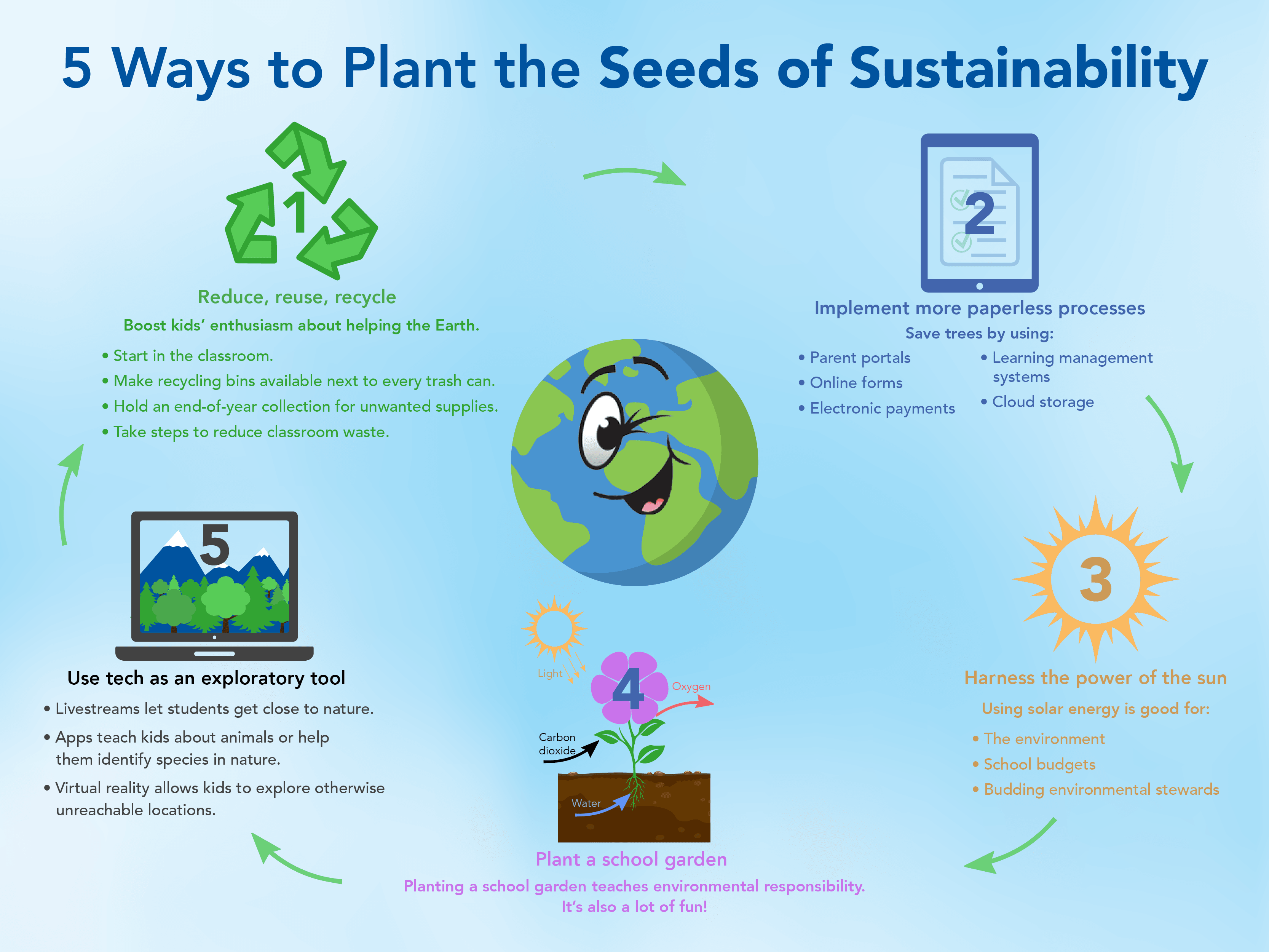 Follow-Up Resource: On the Road: Chicken, Crops, and Community
Explore one Wisconsin high school's unique agriculture science program with our travelling reporter, Lauren Gilchrist!