4 Strategies to Manage Educator Empathy
#Leadership
It's no secret educators are faced with a particularly tough level of stress.

46% of K12 teachers report high levels of daily stress. Nurses and physicians face almost the exact levels of stress (46% and 45%, respectively). What is it about saving lives and shaping lives that leave our educators and medical professionals so absolutely exhausted at the end of a workday? The secret is empathy.

Empathy is a skill, and it can be improved with diligent practice. However, the levels at which educators display empathy go far beyond learning the basics. The great personal sacrifice of energy can place educators in a cycle of quick rebounds before they spend the next day caring for others. Constant giving is part of the job, whether it's personalizing practice for 30 students or even reaching into their own pockets to share a snack for a hungry kid. The personal sacrifices educators make is one of the contributing forces driving individuals from the profession.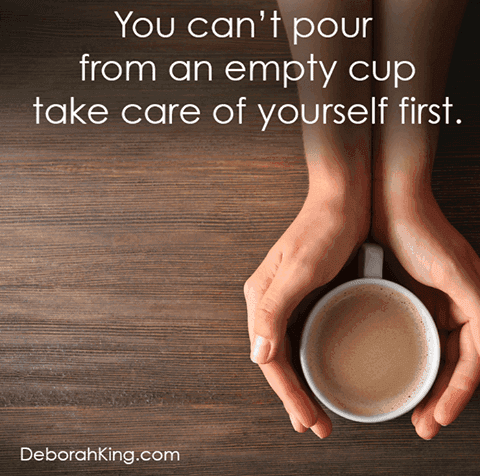 Take the image above. This may seem like helpful advice when presented in an attractive graphic, but in reality, it's pretty inadequate. It's not optional for teachers to show empathy. There's very little time in the evening, between caring for family, possibly working an additional job, and finishing grading and paperwork, to refill that empty cup.

Break the quick refill cycle
Empathetic educators focus so much on keeping the cup "full" so they can constantly pour care into others' mugs. When's the last time you peered into the bottom of your favorite coffee cup? If it's anything like the average commuter mug, it might need a good cleaning before the next pour.
Rather than working constantly to fill the cup just so you can pour it out for others, cleanse the rings regularly. Here are four strategies to help:
Get in touch with you.
Yes, this looks like self-care, for which there are dozens and dozens of helpful articles. Maybe this looks like treating yourself to a DIY spa day (read: a longer shower than usual). Maybe it looks like crying in a soft duvet at the end of a particularly hard day. Either way, the core function of self-care is to check in with our own mental well-being—something empathetic workers can really struggle with, due to their naturally giving demeanor.
Pursue mental healthcare.
58% of teachers rate their mental health as "not good," according to a 2017 survey of almost 5,000 teachers. Creating space to heal what ails you isn't selfish. It's how people in demanding jobs can provide those they care for with healthy empathy.
Share with friends and family.
There's a reason educators do what they do: it's a calling. Highly empathetic people like to pour out of their cups. Taking care of their chosen group of people is one of the greatest joys life can offer to a highly empathetic person. However, before doing so, clear the dregs of the previous challenge before they settle into a hard-to-forget stain.
Ask for help.
Another trait of empathetic folks: at times they don't know how or when to ask for a helping hand. Practice asking for help, especially from those in your circle who aren't as naturally empathetic, and who might not pick up on distress cues.


An additional bonus to learning to manage your own outpouring and refilling of empathy is the opportunity to share the experience with students. There is no replacement for learning SEL strategies from a trusted adult.

Empathetic workers share so much support with others they may forget to reach out with their own needs in mind until it's too late. Head off the meltdown whenever possible and share the experience with your team. Your moment of honesty and vulnerability may inspire someone else to seek help.

There's no magic cure for stress in the education field, but managing stress is possible with support.

Follow-up resource: Tracking SEL
How do you measure social-emotional growth without falling back on emojis?