5 Tech-Friendly ESSA Plans
#Technology
In just a few short months, state ESSA plans shift from theoretical goals and hopeful strategies to actual practice and policy.

Optimists, take heart: most states' plans considered a move away from bare-minimum compliance toward effecting real, positive change geared toward reducing inequality in education. A few states are coming out strong by addressing the important roles technology, blended learning, and professional development play in improving schools for all students.

Let's explore five states' impending ESSA plans, all of which have been approved by the US Department of Education.

---
5. Illinois
First up, the Prairie State lays out an ambitious long-term goal: 60% of the state's population will achieve some form of degree or postsecondary credential by 2025. Among their strategies: careful assessment, whole-child education, and accountability measures.

Professional Capital
It's defined as the "knowledge, skills, and understandings that an educator uses to meet the needs of a whole child in the context of a professional community… such as, but not limited to human development, instructional design and delivery, universal design, differentiated instruction, balanced assessment practices, and data and assessment literacy." Further, teachers are expected to be sensitive to the experiences students bring with them to school. Specific professional development strategies include peer mentoring and microcredentialing.

Digital Literacy
Goals include a push for data literacy, STEM, and other tech-centered learning. This ranges from using data visualization to communicating progress to parents and the community to supporting migrant and at-risk students with technology in summer school.

Hints of Blended Learning
Illinois is working to extend the reach of education through at-home surveys used to guide instruction in the classroom. The plan highlights the importance of multiple pathways to postsecondary learning and careers—not only a welcoming learning environment, but also work-based learning opportunities.


---
4. Washington
Washington notes the strong correlation between the goals outlined in ESSA and its existing efforts and state laws, but they certainly don't stop there. A particular emphasis is placed on investing in school leadership to build on their already strong foundation.

Funding PD and Career Pathway Creation
Three out of the four percent of state-level subgrant funding has been prioritized to invest in principal training—specifically on teacher and principal evaluation, which has received little state funding to date.

The plan also places a great deal of focus on career pathways for leaders, teachers, and paraeducators in schools. Multiple pathways for becoming certified and opportunities to grow within a career pathway that doesn't lead to an administrator role are discussed at length, for example, teachers may become instructional coaches to still have a presence in the classroom. In addition, plans touch on the importance of investing in paraeducation staff to enhance student learning.

This approach, as we have covered in the past, is a proven model outside the United States, and is believed by many to be the best way to keep top teachers in the classroom.

Increasing Access to Tech Enrichment
The majority of Washington's planning for technology enrichment in ESSA is related to goals for student learning and tied to the creation of 21st Century Community Learning Centers. Their main goal is to provide opportunities for students in low-performing schools and their families to access technology outside of school hours in order to meet challenging academic standards.

In addition, the plan's tech enrichment grant ideas outline funding for training, monitoring, and maintaining academic standards in community learning centers.

---
3. Michigan
Great Lakes and equally impressive ESSA plans collide in Michigan. The state starts with a big goal, to make Michigan one of the top 10 states for education in 10 years, by the 2024–2025 school year. Their plan lays out the guiding principles, goals, and strategies to reach those heights.

Why Teachers Stay
Michigan researched why teachers stayed in challenging roles, and identified three motivators to encourage in schools:
Positive work environments
Strong, inclusive leadership
Structured team atmosphere

The plan proposes a teacher residency program (one year of pre-service alongside an effective teacher). The plan also calls for career pathways for teachers which include distributed leadership, a method of principals coordinating and sharing leadership tasks with other staff. There's also support for statewide mentor networks for principals and teachers and PD through microcredentialing.

Extending the Classroom
Educators are encouraged to collaborate with community partners to extend learning beyond the classroom. In fact, the state used virtual focus groups during planning. Blended learning is referred to specifically, and virtual coaching is mentioned to expand professional development opportunities. Perspective is expanding too: Tribal leaders were consulted regarding ESSA plans. The state notes, "For too long, education has 'happened' to Native people," and attempts to recognize the needs of Native populations throughout the state's plan.

Robust Plans for Effective Tech
Like many ESSA plans, Michigan seeks to increase STEM engagement and provide well-rounded educational opportunities whenever possible. Career and technical education is encouraged across gender lines. The plan addresses the need to provide additional resources for students in remote, underserved areas. STEM-specific professional development is also listed for consideration.


---
2. Pennsylvania
The Keystone State also starts strong, echoing Illinois' 60x25 goal. Pennsylvania's plans to reach this goal begin with strong early learning plans for all and extend to encouraging postsecondary education, with lots of investment in specific initiatives and an emphasis on local control along the way.

Emphasizing Diverse Teachers
Pennsylvania's plans reference research into how students can find encouragement and motivation from diverse teachers in the classroom. The plan addresses teacher retention and filling teacher shortages by investing in residency programs for teachers and principals. It also highlights the need for comprehensive professional development at the leadership level.

Solid Numbers for STEM Needs
Pennsylvania's plan shares the specific statistics behind encouraging STEM education and postsecondary careers. Despite more than 21,000 currently vacant computer science jobs statewide, Pennsylvania saw just 2,820 computer science graduates in 2014. Their projections show a whopping 71% of careers emerging over the next decade will require STEM skills.

Plans also propose a solution for filling these gaps: Address the diversity issues lingering in STEM education and careers. Noteworthy research from the plan shows if people of color were fully represented, approximately 570,000 more computer scientists would make up the workforce. As well, computer science courses in high school lead to students being six times more likely to pursue a computer science major. Among them, women are 10 times more likely.

Digital Resources
With the emphasis placed so heavily on STEM education, Pennsylvania's plans to amplify access to technology and digital learning must extend beyond traditional classroom organizations. Mentions of flexible attendance (attending school at approved off-grounds locations in extenuating or enriching circumstances), digital literacy in after school programs, and school librarians' roles as gatekeepers of technology all appear in the state's ESSA plans.

---
1. Tennessee
Perhaps most magnificent among its peers here (and certainly most verbose, racking up nearly 400 pages of goals, initiatives, and strategies), the Volunteer state introduces their plan with four ambitious goals:
Rank in the top half of states on the National Assessment of Educational Progress (NAEP) by 2019
Achieve reading proficiency for 75% of third graders by 2025
Raise the average ACT composite score to 21 by 2020
Encourage the majority of high school class of 2020 graduates to earn a postsecondary certificate, diploma, or degree
Tailoring PD to Student Experience
In contrast to some woefully vague ESSA plans, Tennessee goes into great detail describing their strategies, including a robust explanation of PD microcredentialing plans. In addition, Tennessee aims to align teacher PD with student learning goals and provide specific training such as poverty simulations. With one in four students living in poverty, it's crucial to increase understanding of the impact poverty has on learning.

One of the main mantras repeated in the state's ESSA plan is "All means all." The plan specifically outlines the importance of engaging parents of all students, including migratory parents or parents who don't speak English.

Tennessee also outlines achievements in their plan, including their Tennessee Educator Acceleration Model (TEAM) for evaluation and PD. TEAM is resonating with educators: 68% say it's fair, another 68% say it's improved their teaching, and 62% say TEAM has improved student learning.

Beyond Access: Tech Incubation
Tennessee isn't just giving kids free reign to try out gadgets. No, they're piloting uncommon advances in technology, just to see what might work, and thinking outside the box of the everyday student experience.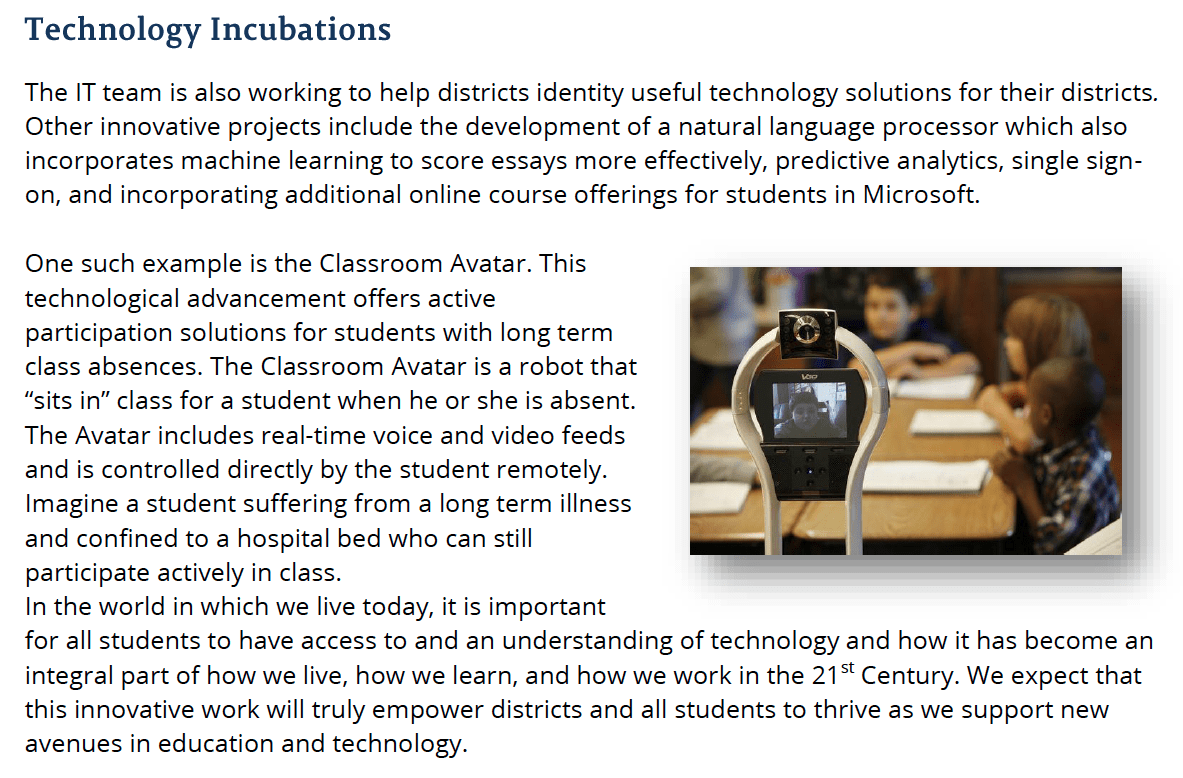 Blended Learning Opportunities
Unsurprisingly, Tennessee's comprehensive plans include specific examples of blended learning, down to the course level (Algebra I/Integrated Math I), complete with strategies teachers may use. The overall goal, especially in the math course's case, is to free up more time for one-on-one guidance for tricky topics. Other specific examples include numerous early postsecondary opportunities and work-based learning.


---


ESSA's aim—providing states with authority to create programs to serve and improve outcomes for all students—truly shines in these five plans. With measurable, time-sensitive goals, and hopeful plans to reach them, the next decade in education looks challenging, but bright.

Follow-up Resource: Advanced Data Analysis for Superintendents
Certain ESSA initiatives seem to demand administrators measure the unmeasurable—or at least, efforts which are very difficult to quantify. Learn how to track even the most elusive district data in 15 Advanced Metrics for Superintendents.